About this website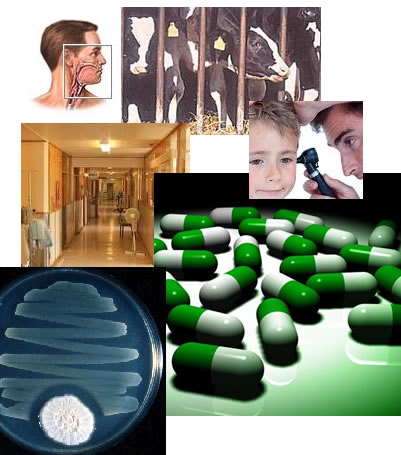 This website presents information about the growing dangers of antibiotic resistance. The developers of this material are science and nursing students at North Dakota State University, enrolled in an upper-division writing in the sciences class.
We began our research by reading Stuart Levy's The Antibiotic Paradox: How the Misuse of Antibiotics Destroys Their Curative Powers published by Da Capo Press, 2002. During the first half of the course, we read and discussed this text and Writing in the Sciences: Exploring Conventions of Scientific Discourse, by Ann Penrose and Steven Katz, published by Longman, 2009.
Students then proposed research projects to develop material for this website. Besides the articles listed below, students created annotated bibliographies, which have now been compiled into one large bibliography available in the "More information" section of this site. They also wrote article reviews, progress reports, and editing reviews of each others' work.
The articles written by the developers are listed below along with abstracts for each. You may access the complete articles by clicking on the links in the navigation bar to the left or by clicking on the "Read more" link at the end of each absract. For more information about the developers, click on the "Developers" link in the navigation bar.
History
Antibiotic resistance: A descriptive overview, Jessica Kopp.
Why should we worry about antibiotic resistance?
Facing Our Antibiotic Dilemma, Jordan Reinbold.
A look at current MRSA rates in the Midwest: Are they increasing or decreasing? Michael Aanes.
Does modern agriculture contribute to the antibiotic resistance problem?
Antibiotic Use and Farming, Ashley Abernathy, Victoria Albers, Marti Hoekstra.
Methocillin-resistant _Staphlococcus aureus_ strain ST398, Felicia Lamb.
Knowledge and Action
An Analysis of the Public Understanding of Antibiotics and Antibiotic Misuse, Josiah Nelson and Tyler Burslie.
Behaviors Associated with the Misuse of Antibiotics, Samantha Magnus.
Alternative Treatment Options
Alternative Treatment For Bacterial Infection in Response to Antibiotic Resistance, Brittany Christopherson.
Phage Therapy, Thomas Kalinoski.
If you would like to see previous comments or leave comments about this website, click on the comment button below.